The Crozet Chorus, Inc. seeks to foster the appreciation and enjoyment of choral music in the community though high-quality performances and to inspire singers to realize their musical potential in a non-competitive and supportive environment.
History of the Crozet Chorus
The Cro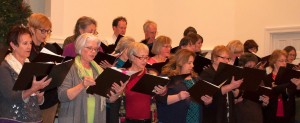 zet Chorus was organized by a local resident in the summer of 2015  to provide a venue for singers of all levels. Incorporated as a non-profit in December 2015 with a Board of Directors, the chorus is secular, non-auditioned and open to men and women. Our first performance, in December 2015, Songs of the Season, was a resounding success with a capacity audience and a standing ovation!  Over 100 singers have been part of the chorus.
The Crozet Chorus performs a varied repertoire—from great composers both classical and modern, to music from across the globe and through the decades. We welcome singers of varied abilities and musical backgrounds from throughout the region. They come from diverse backgrounds—teachers, farmers, nurses, attorneys, architects, business people, professors, authors, homemakers and computer experts--all united in their love of choral music. Crozet Chorus is an educational and community outreach organization devoted to fostering excellence in performances and a greater appreciation of choral music in both chorus members and the community.  The chorus has no religious or political affiliation.
---
Chorus Artistic Director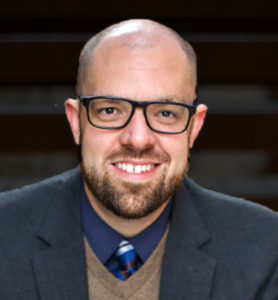 Dr. W. Bryce Hayes maintains an active career as a conductor, teacher, church musician, pianist, accompanist and singer. Bryce is currently associate professor of Choral Music Education at James Madison University where he works with the Treble Chamber Choir, The University Men's Chorus, and Kor, a select men's ensemble of 14. He also teaches graduate choral literature, undergraduate conducting, and music education classes. Dr. Hayes is a certified Kodály educator, and his current research interests include strategies for improving musicianship with secondary and collegiate choirs, the role of gender in the choral ensembles, and creativity in the choral classroom.  Dr. Hayes holds a Doctor of Musical Arts degree in conducting from The University of Minnesota and a Master of Music degree in Choral Conducting from Temple University. His career began with a Bachelor of Music degree in music education summa cum laude from Westminster Choir College following which he served as the Director of Upper School Choral Music at Princeton Day School.
---
Chorus Pianist

 
Joyce Polifka relocated to Charlottesville in January 2018 with her husband and three young children. Prior to the move, she was an Adjunct Piano Professor at Colorado College, a post she had held since 2006. She was also the Children's Music Assistant at Grace and St. Stephens Episcopal Church, where she helped direct and accompany choristers ages 5-18. Joyce had a busy home studio and was an active member of the Pikes Peak Music Teachers Association, in which she chaired several festivals and held various board positions.  She served on the Piano Faculty of Montgomery College in Rockville, MD from 2003-2006, where she taught both group and private piano.  At that time, Joyce was also Director of Music at the National Naval Medical Center and Assistant Director of Music at St. Jude's Catholic Church. She holds Bachelor and Master of Music degrees in Music Education and Piano Pedagogy from The Catholic University of America in Washington, DC.  In 2007, Joyce earned her National Certification as a Teacher of Music (NCTM).
---
Chorus  Leadership
Board of Directors 2021-2022:

Marji (Ross) Amate
, President and Chair

Karen Parks, Treasurer

Joan Forrest, Secretary

Kiki Osbourne, Social Chair
Joanne Davis
Nancy Fleischman
Pam Macpherson